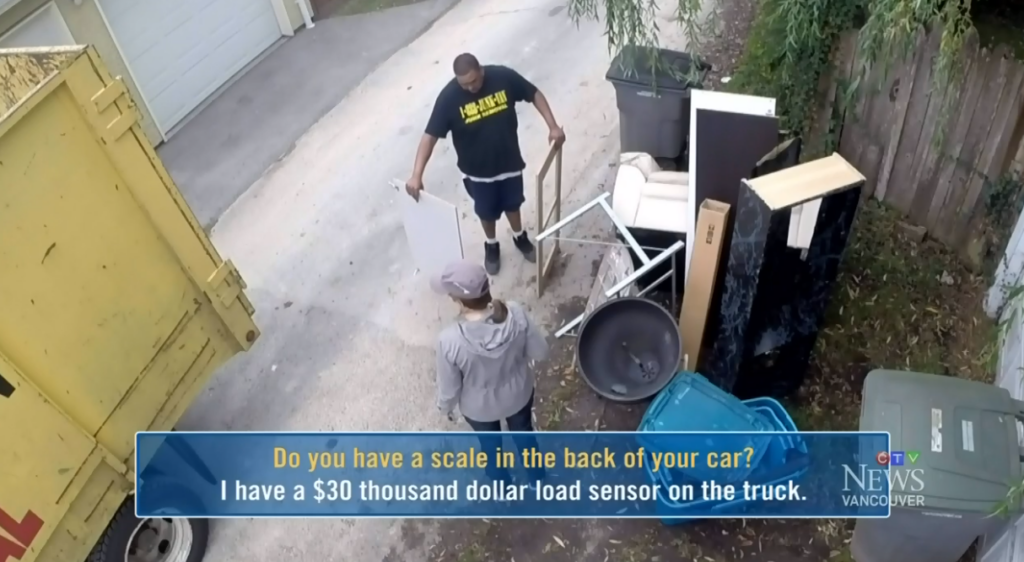 Bait & Switch: a sales tactic in which a customer is attracted by the advertisement of a low-priced item but is then encouraged to buy a higher-priced one
In this case, it's less of encouragement to purchase something of a higher value, and more like just fraud.
Late last year, a Vancouver franchisee of a junk removal company was caught on camera overcharging customers by a significant percentage. Amy Savoie was one of them. She was renovating a condo in Vancouver. When she bought a coupon to have 250 lbs. of junk removed for 35 dollars, she thought she was getting a great deal on an essential element of getting the renovation cleaned up. She had a 156 pound stove to get rid of and a 71 pound steel bathtub. Total weight: 230 lbs. When the company arrived they told her that her junk actually weighed 453 pounds. After much frustration from other people who claimed the same thing happened to them, as well as a poor grading with the Better Business Bureau, investigative television got involved.
CTV BC had received a number of complaints from people who had bought an online coupon for junk removal services. When they arrived to haul away the rubbish, customers were asked to pay a lot more than what was agreed after an insistence that the commercial scale in the truck was to be taken as accurate and correct. So – the good folks at the station decided to get some junk, have it professionally weighed on a federally regulated calibrated machine, and called the company in question. Low and behold, the undercover television crew had 238 lbs. of junk turn into almost 700 pounds.
Watch part 1 here.
Watch part 2 here.
The rundown of comments from other people scammed by this company on CTV's pages for each piece speak for themselves.
Questions? Comments? Share them here. Looking to remove junk from your residence or office? Book online, check out our pricing, or contact us!